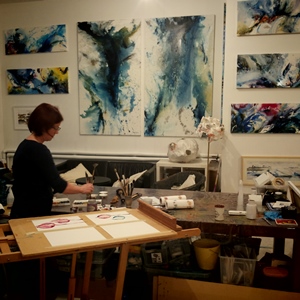 About Me
I have been inspired by art since my early childhood. When I was five years old I often went with my mother to an Art school in Reykjavik where she was studying to be an artist. There I took my first course in drawing and painting leaving good memories from that time. Since 1992 I have been taken part in all kind of art courses with main aspect of watercolour painting, oil painting and ceramics in The Art School in Kopavogur (Myndlistarskoli Kopavogs).
Gallery & Workshop
I was running an art gallery, Gallery 5, together with four other women for three years (2002-2005) in downtown Reykjavik. That was a good experience. Last summer I started in Art Gallery 101 situated in Laugavegur 44, 101 Reykjavik. We are there 14 local artists, mainly painters, 3 ceramicers and then me making Light Sculptures out of paper-maché. My workshop is in Smiðjuvegi 74 in Kopavogur where I paint with three other artists.
Articles & Education
In 2015 I graduated with a BA degree as an art historian from the University  of Iceland.  In 2008 in the 60th edition of The International Artist Magazine there was an article of ten pages about the creation of my art. I have held many exhibitions both private and with others.
I´m also working part-time as a physical therapist.